$17.95
Paperback 10" x 8.5
38 pages with color illustrations
ISBN 978-1-938883-50-7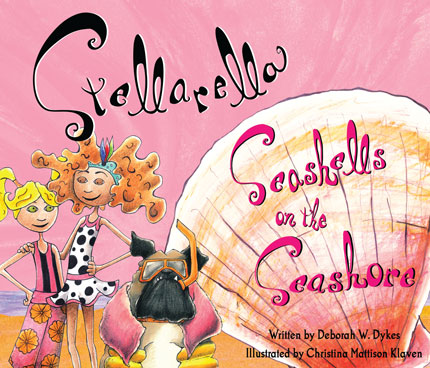 by Deborah W. Dykes
Illustrated by Christina Mattison Klaven
Our feisty, frizzy-headed Stellarella and her herculean bulldog, Tank, are off to the beach.Using her sassy style and creative imagination, Stellarella, prompted by her cousin Poet, conjures up the idea of making a seashell necklace from shells they find on the seashore. Unexpectedly, these autonomous little girls discover a hidden mystery held quietly coiled inside a magnificent conch shell.
ABOUT THE AUTHOR:
DEBORAH "DEBO" W. DYKES is from the Deep South. She's inspired by the fecund smells of a ripe swamp, eating crawfish, and rescuing worms after a heavy rain. Debo is a reporter for the Shriver Report and has been a middle school science teacher, and Episcopal Clergy.
ABOUT THE ILLUSTRATOR:
CHRISTINA MATTISON KLAVEN, originally from Columbia, MD, is the artist behind Stellarella books and C. Mattison Art.