---
Course fees are payable through PayPal, check or credit card. If you have any questions, please call or email us!
---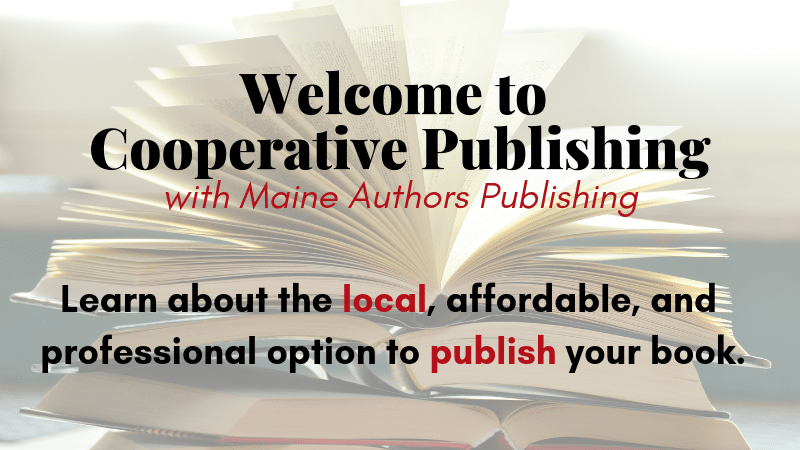 Welcome to Cooperative Publishing with Maine Authors Publishing
First Friday of every month (or special weekend edition classes)
Free, but registration is required. Space limited.
Friday, June 7th,  from 3:00-4:30
 Sunday, July 14th, from 1:00-2:30
Friday, August 2nd, 3:00-4:30
Friday, Septemeber 6th, 3:00-4:30

Have you written a book and are considering publishing independently? Maine Authors Publishing is a local, affordable, and professional option. Learn in this free 1-hour orientation class how we guide local Maine authors from a written manuscript to printed books and the services we offer to support every author's individual goals. A Q&A segment will follow the presentation.
Call (207) 594-0091 or email us to register!
---
The Gradual Yes Method of Sales (for authors) with Jane Karker
Contact us for more information about schedule.
Promoting a book is a marathon, not a sprint, and authors can often get overwhelmed before they even begin. Instructor Jane Karker combines her fifteen years of corporate sales experience with the best practices she has learned from working with over two hundred authors to publish and market their books. She will touch on the challenges and benefits of independent publishing and statistics in the independent publishing industry. This workshop will give an overview of traditional and internet book marketing and focus on ways to avoid burnout by using tools to break down marketing tasks into realistic steps. Attendees will receive live marketing links for internet marketing, as well as a digital workbook to list, schedule, and implement their marketing tasks. These tools are used in conjunction with the "Gradual Yes Method" of sales—a technique consisting of ten basic sales truths developed specifically for authors. This workshop is open for published authors as well as writers who have not yet published.

Jane Karker lives in Maine and is the founding president of Maine Authors Publishing & Cooperative. She had over 15 years of experience in corporate printing sales before beginning her decade-long career in publishing and book marketing. Her expertise focuses on ways to affordably and effectively produce, publish, and market books for independently published authors. She is a frequent presenter at events and in the media throughout New England, including The Boston Globe, MPBN, WERU, Grub Street, the Boston Public Library, and the International Women's Writing Guild.

Call (207) 594-0091 or email us to register!
---
Local Libraries: Market, Present, Sell with Deborah Gould
Contact us for more information about schedule.
Looking for marketing and sales venues? Don't overlook the obvious: You want readers, and libraries have readers–lots of them! Join a discussion about the possibilities libraries have to offer, from readings and signings to author talks and book clubs. Let's talk about ways we can successfully turn libraries into marketing and PR opportunities; bring your ideas to the table and take away a few more! Award-winning author of The Eastern Deborah Gould will share her expertise in working with local libraries.
---