$15.95
Twenty-one years of Discovery
on the Appalachian Trail
Paperback 6" x 9″
235 pages
ISBN 978-1-63381-058-7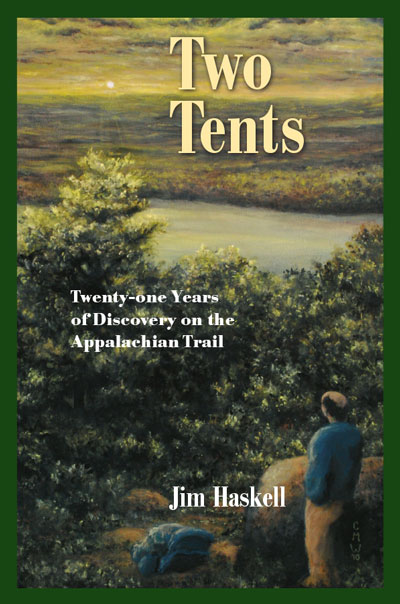 by Jim Haskell
Did you ever have a childhood dream? Did you feel you had to give up on that dream when you grew up?
Jim Haskell began dreaming about hiking the twenty-two-hundred-mile Appalachian Trail when he was nine—after being left behind one weekend when his father and older siblings climbed Mount Katahdin, the northern end of the AT, in their native Maine. The dream became an obsession.
But then life got in the way. College. Marriage. Graduate school. Career. By his late twenties, Jim had nearly convinced himself that taking a year off to hike the AT just wouldn't work. The dream was dying—until an encounter with a disenchanted thru-hiker inspired Jim to revise his dream. Don't thru-hike the AT in one year. Take your time. Section-hike it instead.
Two Tents is Jim's account of living his dream for twenty-one consecutive years. "Two Tents" became his trail name. This book is much more than an account of Jim's encounters with bears and close calls with death. It's about how the AT became Jim's path to self-discovery; how a man matures during his thirties and forties; how love can be lost and found again; how one embraces fatherhood.
Two Tents is about making dreams come true.
ABOUT THE AUTHOR:
Climbing Mount Katahdin when he was twelve opened up the world of hiking to Jim Haskell. Besides completing the Appalachian Trail, he has climbed sixty of the sixty-seven highest mountains in New England, and hopes to complete all of the four-thousand-footers in New England and New York by his sixtieth year. Leaving his native Maine in 1978, Jim studied history at Boston University and earned a master's degree from Suffolk University. Jim has been a community development executive and consultant for thirty years. Jim lives with his wife Donna and their son Jason north of Boston. Two Tents is his first book.
Cover illustration of book by Chelsea White