$17.95
Paperback 6" x 8″
208 pages
ISBN 978-1-63381-154-6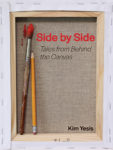 by Kim Yesis

A candid account, dappled with learning and humor, that will grab the heart of any art enthusiast and anyone who's chased a dream.
Most middle-aged men buy a sports car or get a hair replacement. At the peak of his earning potential, with tuition bills and parent care looming, Peter abruptly abandons engineering to become a fine artist.
This challenge could reignite his thirty-year marriage or spell its doom. Without an inkling of what it will mean, his wife rolls up her sleeves and sets to work by his side. And then comes the Great Recession.
ABOUT THE AUTHOR:
Kim Yesis has a master's degree in counseling and is a perpetual student of human nature. Her fascination with people as they grapple with change and expose their true spirit in the process is unmistakable in Side by Side, her first book. Kim works in business management and lives with her husband, Peter, on the coast of Maine.
For more information, visit www.kimyesis.com