$19.95
Paperback 5.25" x 8″
159 pages
ISBN 978-1-63381-070-9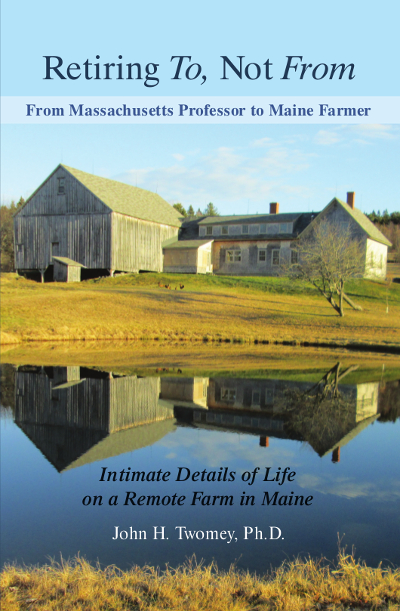 by John H. Twomey, Ph.D.

Retiring To, Not From is an ideal resource for anyone who has thought about pursuing a simpler life, a life in which one has more control over basic necessities, a life in which one has more contact with the natural world. In this work John Twomey gives the reader a detailed account of what takes place on his farm throughout the year. He includes extensive information regarding raising and preserving vegetables and fruits; raising chickens and brook trout; managing fields, woodlands, ponds, and brushy areas for the benefit of wildlife; as well as enjoying beautiful Maine winters. Twomey's insightful observations on the many benefits of this rural lifestyle are both moving and thought-provoking.
"Retiring To, Not From is a wonderful, detailed account of an extraordinary labor of love. Part farmers, part naturalists, and part artists, John and his partner, Leigh, offer a moving example of how to live simply, and in harmony, with all members of the natural world. Through their deep affection for the land, amazing observational skills, and myriad talents, they have successfully taken up Aldo Leopold's call for us to become caring citizens of the entire life community. This book is brimming with excellent, simple, and practical advice. It also offers a clear depiction of how our physical, mental, and emotional needs are truly sated when we nurture and celebrate the Earth's amazing, joy-inspiring community of life. "
—Susie O'Keeffe, Research Associate at the College of the Atlantic, writer and teacher
A percentage of the proceeds from the sale of this book will be donated as follows:
15% to The Midcoast Conservancy
www.midcoastconservancy.org
5% to The Montville Historical
Society at Center Road
Montville, ME 04941
ABOUT THE AUTHOR:
After 37 years as a professor at the University of Massachusetts Dartmouth, John retired in 2009 and moved, with his partner Leigh, to Montville, Maine. There they live simply and deliberately on the farm that John has owned since 1978. Having seen farms sold and developed near his childhood homes in Connecticut and Massachusetts, Twomey plans to permanently protect his Montville farm.