$59.95
Red Jacket

Hardcover 9" x 11.5"
429 pages
ISBN 978-1-63381-085-3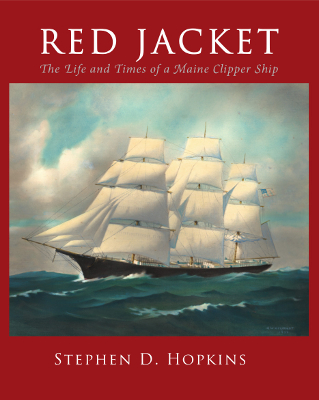 by Stephen D. Hopkins

During the 1850s clipper ships dominated the open seas of the world. Their beauty and speed made them the most celebrated sailing vessels of the nineteenth century. Clippers were developed to meet the need for faster ships to reach the gold fields of California and Australia carrying both people and cargo. The most famous clippers set unbroken speed records, and their uniquely American designs were recognized and admired in ports around the world. Of more than 350 American clipper ships, Red Jacket, designed by Samuel Pook and built by Deacon George Thomas at Rockland, Maine, in 1853, was one of the fastest and most attractive of them all. Her maiden voyage from New York to Liverpool established a record for ships under sail that has never been equaled. Once in England, Red Jacket was purchased for the passenger trade to Melbourne, Australia, and on its first voyage "down under" continued on around the world. This meticulously researched work tells the whole story of Red Jacket from its launching on November 2, 1853, to its demise in December of 1885 at Funchal, Madeira Island. Red Jacket had a long and prosperous career compared to most sailing ships of her time, and Mr. Hopkins shares her story chronologically and in great detail accompanied by many illustrations. This first book about the life and times of Rockland's Red Jacket will add significantly to the history of the American clipper ship.
ABOUT THE AUTHOR:
Stephen D. Hopkins grew up in Needham, Massachusetts, hearing stories about his great uncle, George Thomas, a famous builder of sailing vessels. He earned a degree in geography and a master's degree in urban planning at the University of Arizona. The sea soon called Hopkins back east, where he took a job as clerk of the works for the restoration of the iron-hulled sailing ship Wavetree in New York City. At that time (mid- 1970s) he began his decades-long research for this work about Red Jacket. The author has worked on other restoration projects in New York and Massachusetts but at the same time continued to write to libraries and museums in search of original records, stories, and accounts of his great uncle's famous clipper ship. Mr. Hopkins still maintains a lively interest in all things maritime from his home in Rye, New York.
THE RED JACKET BOOK PROJECT
Publishing of this work by Mr. Hopkins has been a project of the Rockland Historical Society. Society members Brian Harden and Ann Morris served as editors with others helping them work on aspects of the project from 2012 until publication in 2016. The artwork of Jerome Morris has been especially important in providing a book that covers all aspects of the ship's construction and career. Harold Simmons and Edward Coffin also served on the Red Jacket Project committee.