$24.95
Looking Back from the Gate

Paperback 6" x 9″
186 pages with some color images
ISBN 978-1-63381-069-3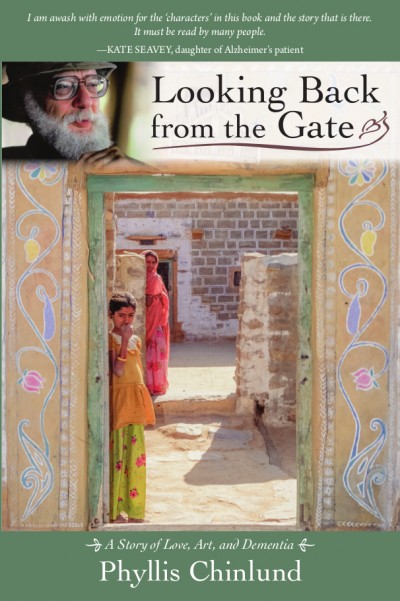 by Phyllis Chinlund

From the unique perspective of two careers, geriatric social work, and documentary film, Phyllis Chinlund confronts the cognitive decline of her husband, photographer Ray Witlin. Journals, photographs, and conversations bring the reader along on the rollercoaster of their lives and their move from Manhattan to Maine. As Ray explores with his camera, the book's twin messages emerge: the saving grace of creativity and enduring love.
* * *
Looking Back from the Gate is an evocative, in-depth account of accompanying a spouse through the progressive stages of a dementing illness. By juxtaposing the present with her photographer husband's past correspondence and artistic ventures, the author poignantly captures the essence of the man she loves and their complicated marriage. Looking Back will provide others with a challenge to creatively survive the joys and sorrows that accompany devastating illness. Beautifully written, Looking Back is highly recommended!—WILLIAM JEANBLANC, MD Director, Geriatric Psychiatry, Maine Medical Center
I couldn't stop reading! I love the present tense. It turns what could be (and is) such a sad story into kind of a suspense thriller—we have the feeling of walking along with the narrator through her good days, bad days, changes, and not knowing any more than she does at the exact moment of her knowing. It's beautifully, sparely written…a bit like Oliver Sacks. Of interest to anyone who's curious about how our brains work and don't work. And it's a love story. Who wouldn't want to read it? —NANCY COLEMAN, PhD Psychotherapist
ABOUT THE AUTHOR:
PHYLLIS CHINLUND, in her first career, directed and edited over twenty documentaries and garnered numerous awards, including a Guggenheim Fellowship for Good Girl. The deaths of her mother and grandmothers inspired her second career, geriatric social work. Until 2013 she worked with aging populations in New York and Maine. Now she is cultivating mindfulness on the coast of Maine.