Islands of Time Sequel

$16.95
Paperback, 6″x9″
205 pages
ISBN: 978-1-63381-096-9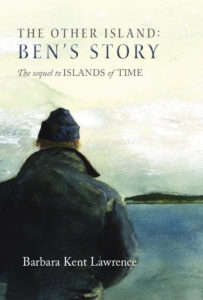 by Barbara Kent Lawrence

In Islands of Time, Becky Granger, the daughter of a prominent New York family visiting Maine for the summer, told her story about falling in love with Ben Bunker, an islander from a family of Maine fishermen. Now, in the sequel, Ben tells his side of the story. Ben's account deepens our understanding of the characters and events in Islands of Time but stands as a compelling story on its own. Ben, now a fisherman and a marine biologist, also shares his experience and perspective on the changing fisheries of the Gulf of Maine and Georges Bank, and the ways in which these changes affect his family and community, as well as all of us who share this planet and its oceans.
* * *
…a bewitching story about love that endures the ravages of time and the changing tides. —Aislinn Sarnacki, Bangor Daily News
…the subtleties of the intersection of different coastal cultures… woven it into a lovely love story, backed up by the fishing history of the time. —Robin Alden, Executive Director, Penobscot East Resource Center, and co-founder of the Maine Fishermen's Forum
…a moving and beautifully written novel of Maine coastal fishing communities. —Paul Doiron, author, The Bone Orchard, The Precipice, and Knife Creek
…an incredibly compelling story. —Natalie Springuel, Marine Extension Associate, Maine Sea Grant and liaison to Coastal Com
ABOUT THE AUTHOR:
As a summer resident since 1948 and a "year-round summer person" from 1979 to 1995 and from 2015 to the present, BARBARA KENT LAWRENCE has seen many faces of Maine. Her academic background in anthropology, sociology, and education, extensive experience in research and nonfiction writing, and her deep love of Maine ground her novels in its history and culture.